Former US presidential candidate Hillary Clinton closed her Australian speaking tour in Sydney last night with a strongly drawn sketch of the world order in 2018.
On one side, Russia, North Korea, Iran and perhaps even China. On the other side, "us".
Clinton suggested that the deliberate spreading of misinformation she said characterised the lead-up to President Donald Trump's election win in 2016 was still "a clear and present danger to democracy – and it's right out of Putin's playbook."
In a far-reaching address delivered before her conversation with former Prime Minister Julia Gillard, Clinton pointed to alleged instances of "insidious and subversive" Russian cyber tactics influencing events in Germany, France, Spain and Italy.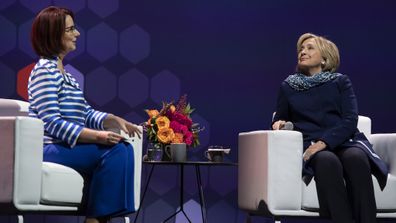 And closer to home, the former Secretary of State warned us to pay closer attention to China, echoing her controversial comments from events in Melbourne and New Zealand earlier this week.

"Here in Australia, journalists, politicians and scholars are sounding the alarm about Chinese efforts to gain political power and manipulate policy outcomes," Clinton said.

"One expert [international affairs commentator John Garnaut] recently warned of [Chinese] state-sponsored coercion and co-option, adding, 'Australia is the canary in the coal mine'."

I'M thank you because your visit in the my website with title Hillary Clinton Warns Of China's Influence, Stresses Australia US Alliance At Sydney Event. Happy reading